National Merit competition honors six Homewood seniors
It is no secret that being named a National Merit finalist is a prestigious achievement.
This year, six Homewood High students received the honor: JW Bird, Brandon Collins, Lily Giffin, Nathan Jones, Kiran McCool and Thomas Reed. 
To be selected as a finalist, students must first be recognized as a semifinalist in the fall of senior year. This selection is based on the PSAT, a standardized test that students take as juniors. Each year, the National Merit Scholarship Program sets a minimum cutoff score for both the nation and individual states. In Alabama, last year's Selection Index Score was 212.
The 16,000 students who are selected as semifinalists must then complete a comprehensive application to be considered for advancement in the competition. Typically, the requirements include a high school transcript, evidence of extracurricular involvement and an essay.
It is these applications that ultimately choose the finalists, seeing as they determine which students have excelled in ways deeper than a test score. All six of Homewood's finalists have certainly done so, demonstrating their prowess in areas far beyond the classroom.
Giffin, for example, is a varsity athlete on top of being a dedicated student. She competes on both the flag football and track and field teams, requiring her to attend practices almost every day after school. As a student enrolled in seven AP classes, this is certainly no small feat.
"It's definitely difficult," she laughed. "I spend so many hours at the track, so it is hard to balance."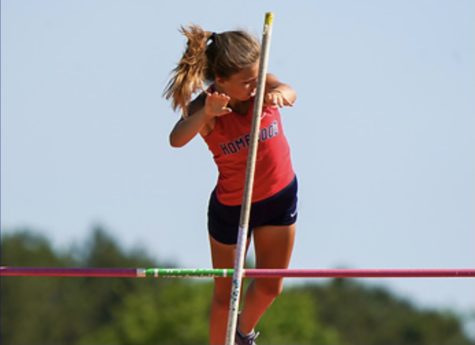 Despite this, Giffin has thoroughly enjoyed her time at HHS. For her, involvement in groups like sports teams and the Patriot Pride Ambassadors provides welcome breaks from schoolwork.
"I try to think of it as something that's fun," she remarked. "I get to hang out with friends before going our separate ways; it's a big joy."
Next fall, Giffin will attend Auburn University to study chemical engineering and Spanish. Eventually, she plans to go to graduate school and pursue a career in developing prosthetic limbs and organ transplants.
"I want to advance those technologies and make them more accessible," she said. "Making this happen is a huge goal for me."
Joining Giffin in the engineering field is fellow finalist Brandon Collins. Though he is unsure of his plans for next year, he is passionate about computer science and hopes to work in a STEM-based career.
"Being in the world of technology is interesting to me," he explained. "You have to be meticulous, and I think that's how I would describe myself."
Outside of academic classes, Collins plays snare on the Patriot Drumline and is a member of the Ultimate Frisbee Club. Though many considered him a shoo-in for Finalist status, he was nevertheless surprised to receive the news. 
"I knew it was possible, but I didn't think it would happen," he recalled. "I tried not to think about other peoples' opinions."
For Collins, the biggest challenge of the PSAT was the reading section. He cites pacing as a key component of success and recommends that students practice their timing skills before test day to "know what they need to do to succeed."
Giffin agrees, encouraging students to maintain a strong work ethic and stay hopeful.
"Keep the dream; if you put the effort in and work for it, it really will pay off," she said.