HHS senior Will Jackson has dreamed of committing to playing Division 1 soccer since he was a kid. That dream became reality when he recently announced his commitment to play for Wake Forest next year.
The Demon Deacons compete in the ACC, a conference as strong in soccer as the SEC is in football. And while Will's journey takes a massive step forward next year, joining the 2007 national champions, he reflects back on his earliest days when he fell in love with the sport.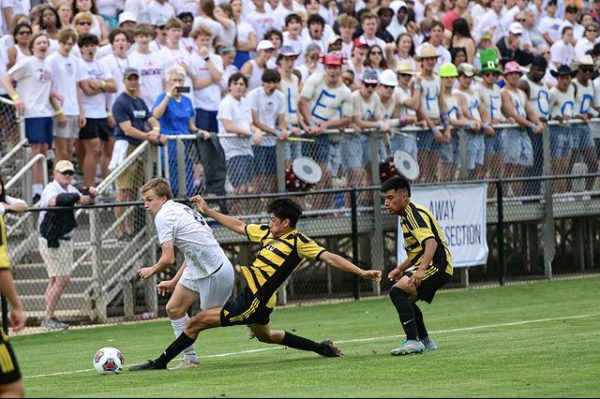 "I've played other sports, like basketball, but I had to quit because soccer was what I really loved and wanted to keep going with," Jackson said.  
Will was introduced to the sport by his dad, Todd Jackson. Todd has been Will's biggest supporter and mentor throughout his career. He coached many of Will's teams growing up and helped develop his technical game. Not only has Todd been a technical mentor to Will, but he has been a mental mentor as well. 
"My dad just being with me mentally, and also technically, just playing soccer, just comforting me and just being a dad has been really helpful," Will said.
As a father Todd is extremely proud of what his son has accomplished, not only on the field but off the field as well. Todd played Division 1 college soccer at Furman University and knows the amount of work that has to be put in order to play at the collegiate level. 
"I'm just super proud of him, he's worked really hard to play at the highest level," Todd said.
Todd recalls a young Will often watching and learning from the best players in the world in World Cups and European competitions, trying to emulate the skill of those players. 
The work put in by Will is evident and noticed by all coaches and players whom he comes in contact with.
One of them is the HHS varsity boys soccer coach Julian Kersh. Kersh is in his fifth year of coaching varsity boys soccer and has seen loads of talent come and go through the program. Kersh coached Jackson when he was just 10 years old on the club level before coaching him on the varsity team at Homewood. 
"Everything seems to come so naturally to him, but with any player at this kind of level, when we're talking about a Division 1 caliber athlete, it's all that work that's put in behind the scenes," Kersh said. 
Hard work is a big focus for Will. Not only on the pitch but off it too. Will is a big proponent of always putting in 100 percent no matter what one is doing. 
"Anything that you want to do, this can be school, friends, relationships, you always have to put in work," Will said. "That's something that's really big for me, the grind." 
One of Will's favorite things about sports is just putting in work and effort all the time in order to become the best player possible. It has taken years of hard work and effort to make it to this level for Will.
 Getting to his skill level is not easy alongside maintaining good grades in school, and balancing all that with maintaining good friendships. 
"I love just being around my classmates, and playing with them," Will said. "I think that's super cool."
It's not all about just being a great player and winning for Will. He loves spending time with some of his best friends day in and day out. All looking to be the best players they can be, and ultimately eying the state championship trophy. 
Will has been the leading scorer on the varsity team for the past two years and is sure to be hungry for more goals this year as the team aims to win its seventh state championship.