May the 4th special: English teacher shares his superfan collection
You don't have to travel far, far away from Homewood High School to find a Star Wars collection so impressive it makes Luke Skywalker's one-in-a-million, Death Star-destroying torpedo shot look like a free throw.
No, you only have to travel to the home of 11th grade English teacher Chad Cooley where he has amassed thousands of collectibles from action figures to plushes, playsets to autographs and most things inbetween.
Today, a room the size of a two-car garage sits at the bottom of the basement staircase, filled to the brim with seven-foot-tall shelves that house nearly every single original action figure, playset and vehicle from 1977-84.
It's a collection so expansive, Cooley is constantly reorganizing and tinkering with the best way to display his collectibles.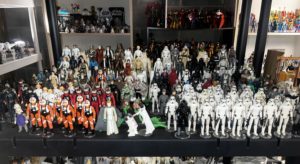 "If I ever get rich or win the lottery, I just want to hire somebody to come in and do this without me thinking about it," Cooley said about getting his collection room perfectly set up.
Each shelf is themed by the scene or movie the figures appear in, including a Hoth, Endor and Tatooine shelf, and further organized by the character's allegiance within the universe, Rebel Alliance or Empire.
On the topmost shelf sits one of the most impressive sections of Cooley's collection: over 200 vintage figures of Boba Fett, the popular bounty hunter from the original trilogy.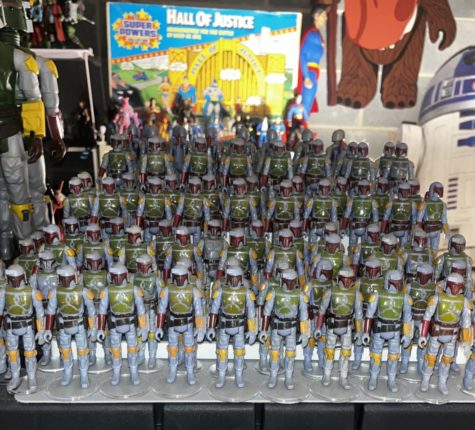 Surrounding those shelves are others hosting an impressive amount of memorabilia for Tron, Street Sharks, DC, Marvel, Swamp-Thing, Bigfoot, 6 Million Dollar Man, X-Men, Blackstar, Godzilla, Battlestar Galactica, GI Joe, Loan Ranger and ET.
To the right are a few glass shelves that house special collectibles such as autographed pieces and his rarest figures. A C-3PO figure signed by Anthony Daniels sits in this case after the actor signed it for Cooley's son Cade at a convention. 
Cooley's collection continues with a cubicle-like space on the other side of the room that houses his tutoring and gaming setup, and yes, more figures. 
Many of the toys on display are those he collected as a child, when his Star Wars obsession began when he was just 4 years old. After begging his parents to take him to see the original film in 1977, Cooley remembers being on the edge of his seat the whole time at the theater, right from Darth Vader's attack on the Tantive IV  ship in the opening scene.
His parents, on the other hand, fell asleep.
The film was all he could think and his love for the movie drove him to want to play with all the toys and action figures he could get his hands on. 
"It wasn't going to come back on TV for you," Cooley said. "You just had to play, and that's how you reenacted all of it."
Because he grew up relatively poor and in a rural area with limited access to toys, Cooley learned to take meticulous care of his possessions. He explained that if he were to break any of his toys, not only would they not be replaced, but he wouldn't get any of the new ones that came out afterward. 
Cooley proceeded to grow up with the rest of the original trilogy, seeing The Empire Strikes Back when he was 6 and Return of the Jedi when he was 9. Both movies only deepened his passion for the franchise and inspired him to continue adding to his collection whenever possible.
His Star Wars obsession waned a little in high school and college, but he never got rid of any part of his collection. 
Throughout his life, Cooley's always been into comic shops and the environment and merchandise accompanying them. That's what, in a way, kept him connected to the collectibles world through this dry patch. 
When he began teaching at Hoover, he fully got back into the franchise and his collection, dispersing figures among his classroom and home office.
Around 10 years ago, Cooley started frequenting a local comic book shop called Kingdom Comics in Vestavia Hills. He was good friends with one of the managers there who would help Cooley sell and trade. 
Cooley said this connection helped his collection grow exponentially, and he learned the tricks of the collecting trade.
"I would have enough extra money from selling something so that I could buy a lot," he explained. "That's usually the best way to buy stuff like this. You need to find someone trying to get rid of everything, and they don't want to wait, so you buy all of it, and then you piece it out, and you sell."
To keep himself financially stable, Cooley leaves all his collectibles earnings in a Paypal and Venmo account. For him, as long as he buys with "toy money," then "it doesn't really count."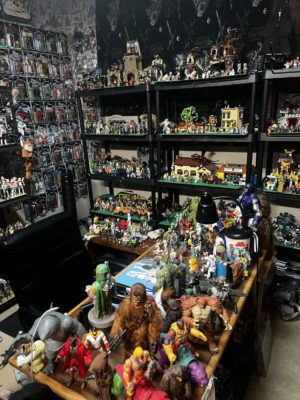 Cooley does not just collect, however. He also creates. In 2014, he began crafting customized figurines. 
While at Hoover High School, Cooley sponsored a Dungeons and Dragons club for some of his students tried his hand at creating his own miniatures for his kids to use in their campaigns.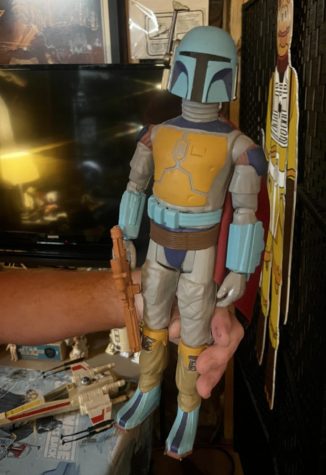 As the "dungeon master" who ran the campaigns for the students, Cooley wanted to try and make it as special as possible. So he kept creating and painting until he got what he was looking for consistently. 
From there, he found further inspiration one afternoon while looking at some old toys. It then dawned on him to take them apart to see what he could create with the parts. From then on his customs collection took off.
The highly detailed Black Series of Star Wars figures is his favorite to customize. They're easy to take apart and reconfigure, and because the trooper figures resell for so cheap, Cooley can obtain these "blank slates" and reconfigure them into whatever he wants. 
He said it took a lot of trial and error. "It was just a process of practice, really learning how to do it."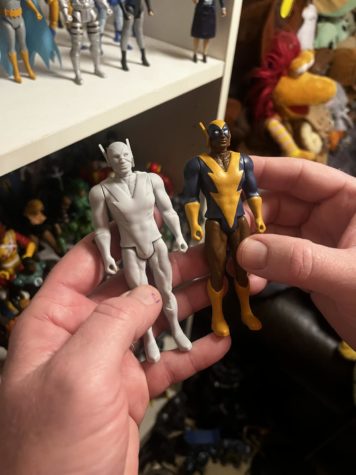 Cooley's customs are so professional and desired he launched a business taking commission and sending his customized toys to buyers and traders all over the world.
He partners with a group of guys that 3D print whatever figures need to be sold and then ships them off to Cooley to be primed and painted.  
Beyond figures, Cooley's Star Wars obsession sends him to a convention in Nashville where he and his son buy, sell and trade, as well as rub elbows with celebrities from the films and other dedicated fans.
Between the entrance fee, hotel room and other costs, the convention can become pricey, so Cooley trades some of his time volunteering that weekend to cover some of those costs.
After working in merchandise his first year in 2021, Cooley was moved to autographs, after he naturally remedied a poorly run line to get photos and other items signed by celebrities from the franchise.
"[My] teacher side just took over, and we made it happen"  
This year, he will be completely in charge of the autographs, directing other workers and ensuring the process proceeds smoothly.
The June convention plans to host a star-studded list of guests, including Ian McDiarmid (the actor who played Emperor Palpatine), the voice cast of Star Wars: Rebels and much more. 
Cooley plans to attend every year for the foreseeable future until he decides he's seen it all, the same approach he's taking to his custom minifigures and the rest of his incredible collection.