Armstead commits to Berry's men's basketball team
Senior Canon Armstead has officially committed to Berry College, where he will play collegiate basketball.
His commitment was announced April 10th on his Instagram account after visiting the campus again last week. Canon explains how he had been interacting with Berry since his sophomore year, sending multiple schools his tapes and attending their basketball camps.
"I ended up getting invited to Berry's camp twice," Armstead said. "It let me meet the coaches early so they knew who I was already."
Things started to pick up over this Spring Break when Armstead had calls with Berry's coaches and eventually set up a visit. Finally securing his commitment, Armstead expresses his relief and appreciation for the search process being over.
"You know how parents are, they ask you, 'What have you got planned for next year,'" Armstead said. "Having that figured out is a big burden off my shoulders. I'm also really excited, because I know where I'm going, and there's a few people from Homewood going there."
The road to commitment has not been easy or simple. Coming into high school, Armstead was worried about making the team freshman year. It was a major step up from middle school, where he didn't get as much playing time as he hoped. With his parents' support and reassurance, Armstead made the team and continued to play and grow in his ability, with the dream of playing in college.
Armstead capped off his illustrious Homewood career being named Area MVP along with earning a spot on the 2023 All-Over the Mountain Team.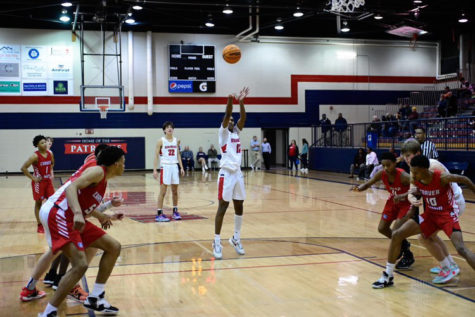 "For me, it was just a struggle to have the confidence at first to think that's something I could do," Armstead said. "As I got older I realized this was something I was totally capable of doing, and opportunity came my way."
Mentors and teammates stood behind Armstead during his entire process. He emphasizes the importance of those relationships in his life.
"Teammates have been a big part [of this]," Armstead said. "They make everything so much fun, and I care about all of them a lot… I have two coaches that don't coach here that played a big part for me when I was younger, that took time out of their day to help me work out and care about who I was."
David Stone, teammate and friend of Armstead, highlights how proud he is.
"My initial reaction was just happiness because he worked so hard for it," Stone said. "It was a perfect school for him and no one deserved it more than him… he is just as great off the court."
With his hard work and dedication, Armstead is yet another example of Homewood's commitment to both competitive athletics and strong character.