On November 11th, both of Homewood's cross-country teams competed in the AHSAA state meet. The boys brought home a red map, finishing second, and the girls finished in a strong third.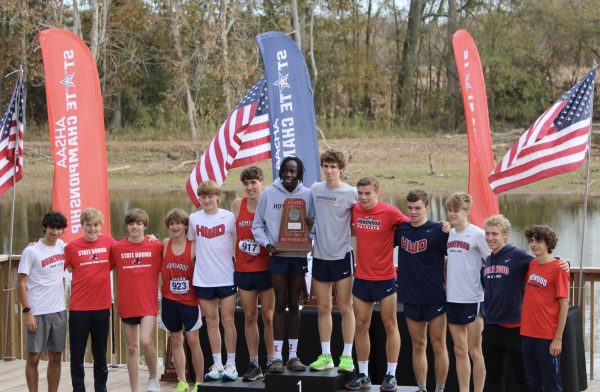 Both teams had worked extremely hard all season competing in a total of 6 regular season meets, JV champs, and sectionals. Girls and boys placed 2nd at sectionals securing their spot in the state meet. Top runners on both sides, Foster Laird and Emma Brooke Levering, won their respective sectional races giving some confidence to both teams going into state. 
Emma Brooke Levering, 6a girls state champ and junior at HHS, spoke on her sectional performance.
"Winning sectionals was super helpful confidence-wise going into state," said Levering. "Knowing that I could compete with some of the older girls made me more assured in my training and abilities." 
Heading into state, there was a lot of pressure on both teams to perform well, especially on the boy's side. Their season had been full of ups and downs and they were looking for a chance to perform well at state. 
Head coach Kelly McNair was confident in the boys abilities, she just needed them to be confident in themselves. They were seeded to score anywhere from 2nd to 4th place, and it could change at any point throughout the race. 
"I've always known that the boys could do it," said McNair. "It was just where their hearts and their heads were going to be." 
One aspect the boys needed to work on was finding that competitive drive for the race. 
"I told them to make it personal," Mcnair said. "I said if you want it, you need to get mad right now. I knew they had it in them, and I needed them to know that."
The girl's biggest competition was Mountain Brook High School and Briarwood Christian High School. Briarwood especially turned out to be a target to beat and was the girl's closest competitor for 2nd place. Their second-place finish was not as expected as it should have been, as Homewood girls had beaten them earlier on in the season by a fairly large margin. 
"Briarwood just had the perfect race," McNair said. "It's not like it was a loss for us, it was a win-win." 
The girls' main strategy against Briarwood was to pick them off one by one. 
"As a team, we were really trying to compete with Briarwood," said Levering. "Our strategy is always to lock on to a jersey and try and pass them. You have to continue working to pass one person and then another to fight your way up to the top." 
In the end, Levering won the race with a new personal best time of 17:46 clinching the 6a state champion title and running the fastest overall time of any division on the course that day. 
"I'm thankful that it came together for her," said McNair. "She had that breakthrough where she crossed the line of entering the place within racing that is scary. She ran the race confidently and I am so proud of her for that." 
At the end of the day, the team aspect of cross country is what matters the most. 
"We talked a lot about doing it for the team," said Mcnair. "Racing is hard. Racing hurts. You are going to want to give up and want to quit. But if you have a bigger reason why you are running, then it helps. Do it for your team because you know they are doing it for you." 
Coming off of a year where Homewood lost the majority of their coaches and a large portion of the team who graduated, the state outcomes were incredible given this year of transition. It was a true testament to their hard work and grit throughout the season in a division so competitive as 6a. The teams aim to use this success as motivation as they enter indoor track season.