From turkey to mashed potatoes and an array of homemade desserts, the Homewood High School lunchroom was filled with delicious smells as the staff served their traditional Thanksgiving feast on November 8.
Students and staff alike filled the lunchroom with excitement for the special meal, as it only comes around once a year. 
Many dishes including the cornbread dressing are homemade and take lots of time to prepare. Krista Stewart, along with the entire cafeteria staff, prepared for more than a week. 
Although the meal is stressful for the staff, they enjoy it and look forward to the students' and teachers' excitement. 
"It's a good stress," Stewart said. "It's the anticipation of everyone coming down to the cafeteria that makes it so fun." 
The CNP (Child Nutrition Program) staff offered a variety of foods, from turkey and ham to collard greens, salads and cole slaw. 
They also offered four different kinds of cake: red velvet, carrot, white cake with white icing and yellow cake with chocolate icing. 
Preparing takes such a long time due to the quantities being made. The staff made over 1500 rolls just for the one day.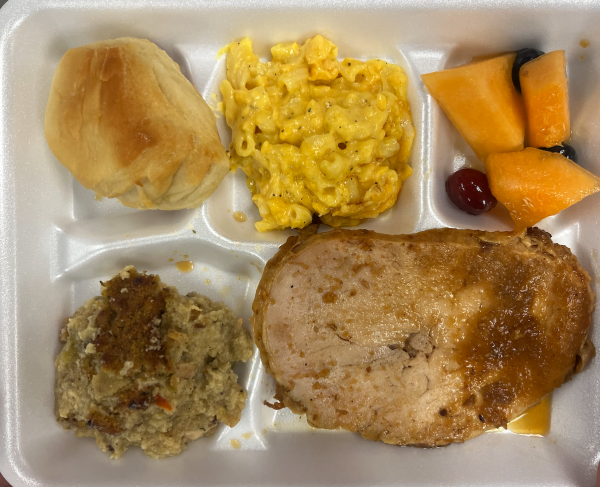 Elizabeth McGowin, one of Homewood's history teachers, gets particularly excited for the meal.
"The staff knocked themselves out for everyone, and we are all very thankful," she said. "They truly do go above and beyond for the faculty and students when it comes to our Thanksgiving feast."  
The feast is typically held many days before Thanksgiving because of the intense cleaning regime that is necessary after such a strenuous preparation. It's much easier for the staff to have plenty of time before the break to deep clean.
Although it was earlier this year, it was still exciting to have such a great meal.
"You get to get in the spirit a little early," Stewart said. 
The high school isn't the only school to serve the meal. All five of the schools in the Homewood district participate in this tradition. 
Hall Kent, Edgewood and Homewood Middle School will have their Thanksgiving meals on the 9th, and Shades Cahaba will serve theirs on the 15th.