Members of the community gathered at Patriot Park to receive a free tree while learning proper planting and maintenance techniques at the Homewood Environmental Commission's second annual "Love Your Trees Day" on Oct. 28.
The HEC is responsible for ensuring that Homewood stays as green as possible, and remaining vigilant with tree growth is their strategy to maintain that. "Love Your Trees Day" is their biggest event of the year, accounting for half of their annual budget, and is just one of their ways to encourage conservation and growth within the community.
"There are all kinds of issues residents reach out to the HEC to solve," Kristin Trowbridge, chair of the HEC, said. "We don't actually have any power or authority and a very small budget, and our two-and-a-half page charter says that we're supposed to preserve our tree canopy and educate the public. All of these problems we're hit with trickle down to trees, so we decided our focus was going to be on trees."
Sixty registered participants pre-selected which tree they wanted to take home from the variety of species and sizes available. The native plants were sourced from Hunter Trees in Alpine as well as Petals from the Past in Jemison to ensure each tree would blend well into the ecosystem of Homewood. 
"It actually takes a lot of time to source the trees," Trowbridge said. "These tree suppliers have gobs of trees, but that doesn't mean they're native. We only get trees that are in our tree ordinance."
Hero Donuts and Daily Edition Coffee donated the refreshments for the event, and Yellowhammer Creative printed the T-shirts and tote bags that participants could take home for free.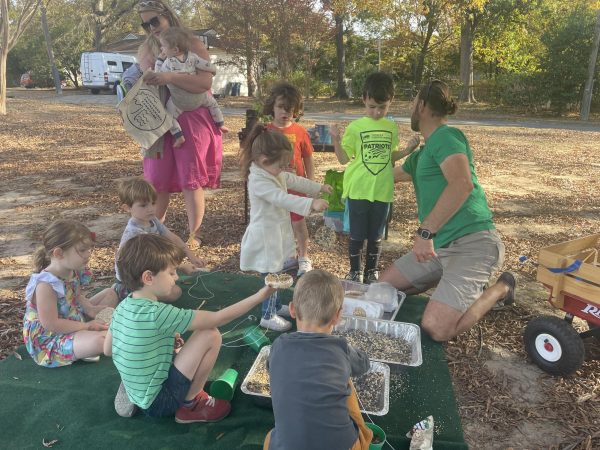 Along with food, social opportunities and a children's activity area, two guest speakers were present to provide their expertise on the importance of trees and their role in Homewood.
One of these guest speakers was Henry Hughes, current Executive Director of Friends of Shades Creek and former Director of Education at the Birmingham Botanical Gardens. He enlightened the audience on the vast importance of tree growth in cities.
"If you take a tree as something that is just above ground," Hughes said, "you don't realize the work that it's doing underground for all of us."
The other speaker was Homewood city engineer Cale Smith. He spoke on the city's fairly new tree ordinance and how city officials are working to maintain it. Smith then opened up a time for questions.
Many participants took the opportunity to express their concerns with certain stipulations in the tree ordinance during the open forum. Passion was present within the conversation as many people questioned the enforcement of the ordinance and whether real estate developers are being held accountable. Smith eased tensions and concern by assuring that the city is taking necessary measures to protect tree growth.
After the speakers shared their knowledge, participants were allowed to retrieve their plants. Members from Boy Scout Troop 97 were present to lend a helping hand transporting trees to people's vehicles. From here, participants took their trees home to plant properly with their new knowledge to help maintain Homewood's flourishing tree canopy.