HHS alumnus Jeremy Burgess's Southern crime thriller, "Don't Die", premiered at the Sidewalk Film Festival this summer at the BJCC theater. This recent film, however, was just the latest installment of his film-writing career.
The film features a main character, Jenks, who needs life-saving medicine and robs a pharmacy, meeting a woman involved in the black market pharmacy. His quest to save her life ends up threatening his own. 
Burgess, creative co-producer Virginia Newcomb, director Benjamin Stark and lead producers Colby Leopard and Troy Wythe Candor began the project in February 2020 but were delayed due to COVID-19. 
During the fall of 2021, they scouted out a friend's hunting property in Tennessee as the primary set of the film, and inspiration hit. 
"We wrote the script around the location," said Burgess. "There was a creepy, unfinished basement and everything." 
Much of the filming was done in October 2021, followed by two years of editing and sound work to unveil the finished product at the Sidewalk Film Festival in August 2023. 
"It was a labor of love," said Burgess.
He says the primary aim of the film now is to get a distribution deal so it will be on streaming platforms, on DVD or adapted into a theater production. 
In 2014, Burgess produced and Stark directed "Dead Saturday," which was released in 2015. The religious thriller was the first project they worked on together. 
Then, in 2018, Burgess helped on the set of "Jasper Mall," a documentary about a mall in Jasper, Ala. 
"That was a learning experience for me for sure," said Burgess. 
He was tasked with giving waivers to non-cast members who happened to be in various shots of the film, simultaneously observing the documentary-making process on set. 
Burgess says that they now view "Don't Die" as a "proof of concept" to show distributors and investors that a quality film can be produced on a low budget, with the hope of making more feature films.
"The goal of each film is always to make another film," he said.
Burgess' aptitude for film and writing began during his time at HHS and has carried on since.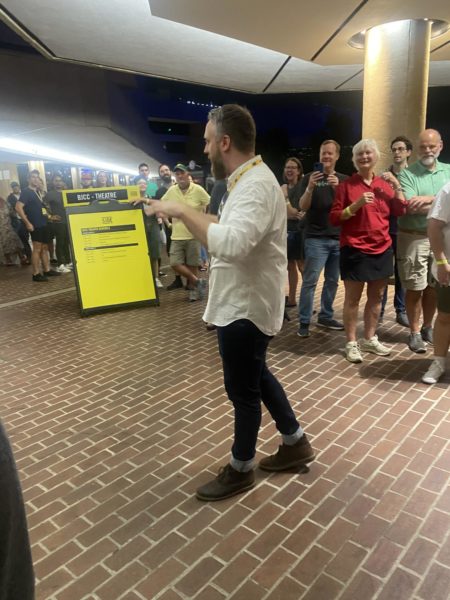 "At first I thought I wanted to be a film critic," he said. 
Burgess said he would seek out films and review them in high school. The Birmingham News even ran his review of "The Collateral" when he was 17.
During his senior year, Burgess took a mass communications class. He says that in the class, they watched films and made small movies and sketches, introducing him to the concept of writing and producing films. 
This, however, was not his first film-related passion.
Burgess studied English at Birmingham Southern College, with a focus on creative writing and journalism. 
During his time at BSC, Burgess wrote film reviews for the campus newspaper, eventually becoming editor-in-chief. 
"That allowed me to seek out film and to take it more seriously," he said. "I started writing my own stuff more and more." 
For graduate school, Burgess attended the University of Louisville, receiving his master's degree in English. 
His passion for film writing continued when his thesis was a treatment for a screenplay. 
In 2011, Burgess entered Sidewalk's screenwriting competition, Sidewrite. He entered two short screenplays and ended up being two of the top three finalists, winning with one of the entries. 
"That was the first spark… the fact that they picked me over the other 10 or 11 means a lot," he said. 
This success prompted Burgess to continue to write for Sidewalk events and led to his realization that this passion was something he could really commit to.