Homewood High School's annual club fair took place on Tuesday, August 22nd, and many new clubs showed off what they are all about. The new clubs range just for fun clubs like Pickleball, to clubs out to make a difference in the community such as the Better Birmingham Club. 
The wide range of clubs provides a great outlet for students no matter their interests
"Clubs just get students involved in extracurricular activities, and connect students with common interests," SGA officer at large Henry Harrell said.
Harrell also touched on how clubs offer physical outlets not offered by the school, such as Ultimate Frisbee Club.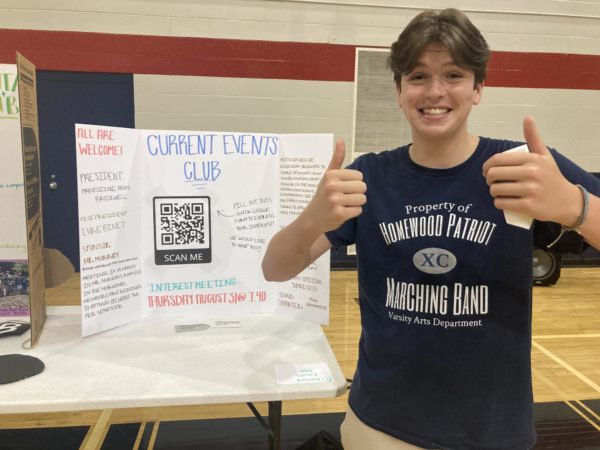 Many new clubs were introduced at this year's club fair, including Better Birmingham Club, Spikeball Club, Ultimate Frisbee Club, Current Events Club and Breakfast Book Club.
All these clubs no matter how different they may be, have come together to provide students with community and to better our community. In order to better the community the Better Birmingham Club gets together like-minded students who have a passion for service, and goes out into the city of Birmingham to serve the community.  
Better Birmingham Club President, Megan Harris, noticed a need for the club while doing community service in Homewood. 
"I saw that a lot of the clubs here helped the Homewood community, but not the Birmingham community as well," Harris said. 
The club aims to do a community service event each month, with each event corresponding to what the month may represent. The club in November they may volunteer to cook at homeless shelters to help spread the joy of Thanksgiving in November. The club is also looking into donating and volunteering at Women's Shelters during Women's History Month. Overall, Harris wants to connect the communities of Homewood and Birmingham through community service. 
While some clubs may focus on serving our community, others focus on creating community through common interests. 
Spikeball Club brings together students who want to relax and hit the roundnet. The club was started by President Jackson Reaves and a few friends after they found a shared love for the sport and began to play regularly. 
"Spikeball club is really just about making friends and bonding," says Reaves. "I've made a lot of new friends through Spikeball, and now we're taking that to a new extent by trying to get other kids to meet each other as well." 
With such diverse club opportunities as HHS, there is a club for everybody. This diversity provides so many students with community, and opportunities to grow.