Outdoor track, new state champions
This past weekend, 45 of Homewood's outdoor track athletes traveled to Gulf Shores to participate in the AHSAA 6A State Championship. 
After a weekend of tough competition, the girl's and boy's teams walked away with a fourth-place finish and state champion trophy, respectively.
For the boys, this first-place title came down to the last event of the weekend: the 4×400-meter relay. Homewood's show-stopping win pushed their total score two points over the runner-up, St. Paul's Episcopal School.
On the girls' side, senior Brooke Walden dominated the pole vault in what has become her customary fashion. Not only did she break the state record, but she also secured her position as state champion in the event.
Other state champions included junior Slate Rohrer in the 300-meter hurdles and the girls' 4×400 team of seniors Sarah Derriso, Mary Siena McBride, Norah Nickoli and Maris Owen.
Homewood also finished with an ensemble of All-State Athletes, including sophomore Emma Brooke Levering and senior Hunter Drake. These students had standout performances both at the state meet and throughout the season.
Homewood Track and Field Coach, Josh Donaldson, was beaming with pride following the big wins in Gulf Shores.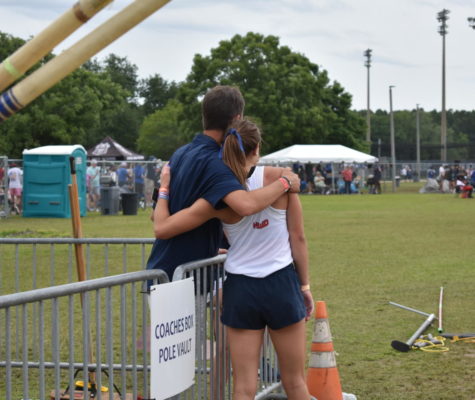 "I'm grateful to be able to work with them," he said. "As I tell them, 'we can't run for you, throw for you'… but the fact that they were able to buy into what we were doing speaks volumes to them."
Donaldson added that the success of both teams highlights not only their ability to succeed in their personal events, but in team events as well. For him, this was the deciding factor in becoming the 2023 state champions.