Drumming duo takes stage for last time
When seniors James Merchant and Luke McLendon tried out to play drums in sixth grade, they had no idea where the future would take them.
After seven years of drumming together, the pair are preparing to perform for the final time. This week's percussion concert will mark the end of an era for the boys, whose bond has blossomed into something far deeper than being members of the same marching band. 
"To this day, it's inspired me to be the best," McLendon remarked. "It was the most fun way to experience drumline."
For both Merchant and McLendon, the dream of playing drums originated from their older brothers, Caleb and Robert. Having already made the middle school drumline, the brothers encouraged them to audition for drums instead of other instruments. 
A long-time guitar player, Merchant was not immediately interested in being a drummer. He remembers thinking that his brother's drum kit was "annoying" and planned to play bass guitar instead.
"My brother told me to do what he did," Merchant recalled, "but guitar was the only instrument I cared about."
As middle school drew nearer, though, he came around. At band tryouts, Merchant scored a 25 on drums, the highest score students can achieve on an audition.
"Ever since then, I've been hooked," he said. "[Drumming] is one of those things that allows me to escape the stress of daily life."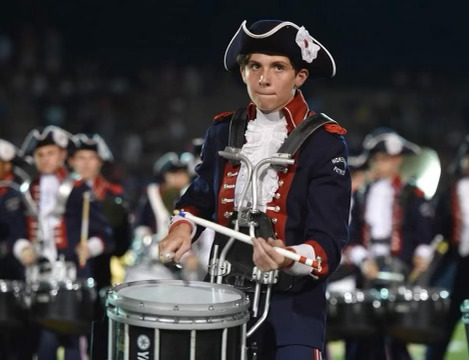 Unlike Merchant, McLendon had always wanted to play drums. After hearing stories from his brother about how exceptional the band was, McLendon felt confident that being a drummer would "be [his] path" as well.

In fifth grade, McLendon began taking drum lessons from director Darren Holbrooks. Within a short period, he realized that he both enjoyed playing drums and had natural talent.
"I had never really had a level of discipline in anything I'd done up to that point," McLendon recalled. "Drums added a level of competition and improvement."
As Merchant and McLendon prepared to enter high school, they focused on nothing more than making the drumline and marching with the band. Though they practiced dutifully, they were also realistic. Neither one believed that they had a shot at playing snare, an instrument regarded by many as the most difficult in the band.
"I wanted to make tenors really badly," Merchant said, "I mastered the tryout music and was happy with that."
About a month before the audition, though, Merchant changed gears. After an empowering conversation with band director Christopher Cooper, he began to realize that playing snare might be more achievable than he thought. From that point forward, he started working on a different challenge: mastering the snare tryout piece.
Unbeknownst to Merchant, McLendon had also been singled out to audition for the snare line. By the end of the summer, both boys triumphed over the tryout and were chosen to play snare, a remarkable feat for incoming freshmen.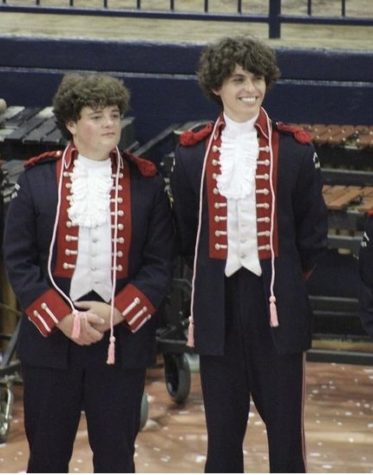 "I ended up being very grateful to have [Merchant] on the line with me," McLendon said. "It gave me someone to do band with… it was such a bonding experience."
Over their four years as snare drummers, the pair have learned many lessons from the students who preceded them. They have also had the unique opportunity to witness what Merchant calls "generations of the drumline," in which the dynamic of the line has morphed and changed over time.
"I've gotten to see a really interesting change of personality as I've advanced," Merchant reflected. "I've learned how to be more independent and work on my own, but I've also learned how to teach."
Once again, both Merchant and McLendon cite their older brothers as sources of wisdom and inspiration. Through the mentorship of their siblings, they gained valuable knowledge of how to assume leadership responsibilities later in their high school careers.
"It kind of gave me an 'in'," McLendon recalled. "Whenever I had questions, I would go to Caleb first."
Having older siblings on the line also gave the two a constant source of motivation. McLendon in particular, whose brother now drums for the Auburn University marching band, felt increasingly driven by his sibling's hard work.
"Once I saw him getting better and better, I thought I should start working too," he said, adding that the experience was "inspirational."
With all of this under their belts, it's not difficult to see why the pair was chosen to serve as drum captains for the 2022-2023 school year. This role, which is designated by the previous year's captains, is typically awarded following the percussion concert. 
As drum captains, Merchant, and McLendon are in charge of the 40+ members of the Homewood drumline. In addition to making sure students are at the right place at the right time, the duties of the drum captain include loading and unloading the drum truck at every practice, football game, and parade.
For drumline director Darren Holbrooks, the drum captains are among the most integral components of the band. Not only do they serve as "eyes in the back of [his] head," but they also motivate other drummers by "setting high standards for themselves."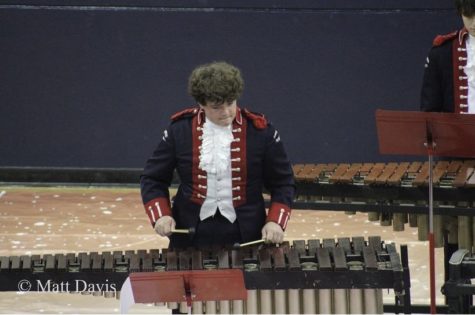 "If you don't have that student motivation to set a higher standard, there are kids who will fall through the cracks," Holbrooks said. "They are just phenomenal."
As a result of this leadership, Merchant was selected to receive the Darren Holbrooks award at the 2023 spring band concert. This accolade, given in honor of Holbrooks, recognizes the strongest percussionist at HHS. 
Though Holbrooks does not directly influence who receives this award, he does have the power of confirming Mr. Cooper's selection before the concert. Upon hearing that his choice was Merchant, Holbrooks agreed automatically.
"He's exceptional in his leadership, and he is a very talented student," Holbrooks said.
For Merchant, receiving the Holbrooks Award means much more than a revered title. Having worked with Holbrooks since sixth grade, Merchant credits much of his drumming success to the mentorship and guidance of his teacher.
"It means a lot that I reflect the values he cares about most," Merchant said. "He's helped me become a leader, and he's improved my motivation and dedication to everything."
Though neither Merchant nor McLendon plans to continue drumming in college, they are confident that the lessons they have learned from their experience will stick with them for the rest of their lives.
For McLendon, this looks like pursuing the activities and goals that he is passionate about.
"The number one thing that I'll emphasize is to not do something if you don't like it," he said. "It's so simple, yet so many people don't do it."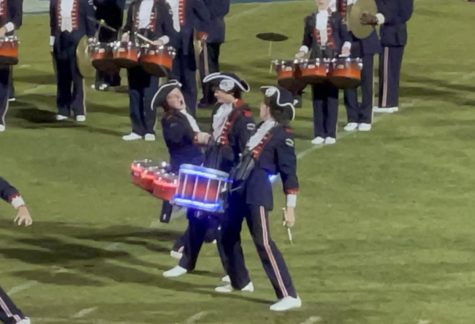 The duo also hopes to leave behind a dynamic of kindness and respect, characteristics they believe to be necessary for the success of the drumline.
"I want to leave behind a culture where everyone is respected regardless of age or skill level," Merchant said. "I hope the next leaders treat other people the same way Luke and I did."
While Thursday's concert will undoubtedly be bittersweet, it will serve as a well-deserved commemoration of the impact that both of these drummers have had on the line.