Jackson's stellar play leads Patriots to tie Grissom, into playoffs
It was junior Will Jackson's hat trick that propelled Homewood's boy's varsity soccer team to a 3-3 tie against the top-ranked 7A Grissom Tigers, and now the Patriots turn their attention to reclaiming the state title. 
Homewood played from behind seemingly the entire match Thursday night, letting in a free kick within the second minute of regulation. Back against the wall, the Patriots turned to their stars, namely Jackson, to try and bring them a victory. 
And sure enough, it was not long before Jackson received a ball streaking down the right sideline, shook a few defenders, then fired in a goal bringing the score to 1-1 a piece in the 17'. 
From there, both teams grappled back and forth until the end of the half, with the score remaining the same.
After the break, Grissom scored again, almost as quickly as they did to start the match, knocking one in during the 43'.
Down again, but not out, Jackson answered with his second goal of the night merely five minutes later. 
The Tigers wasted no time and scored again in the 50' on their first counter, refusing to give up the fight.

But Will Jackson was not finished.
After several minutes of both teams grappling for a chance, Jackson, yet again, slipped through Grissom's backline.
Drawing a foul inside the 18-yard box earned himself a penalty kick, which he drilled straight in during the 62,' cementing a hat trick for the match's final goal.
For Homewood, a somewhat lackluster result is far overshadowed by Jackson's incredible performance, which will provide a wave of momentum heading into the postseason.
Moreover, the topic of postseason play was the focus of head coach Julian Kersh's pregame message to his players. 
He emphasized that Grissom would play the caliber of soccer they would face the following week and encouraged them to treat this game like the first round of the playoffs.
"The mentality is, in a week's time we're going to be playing for our lives anyway, so why not treat this match that way," Kersh said. "Particularly knowing that Grissom is a playoff-caliber team that will make a run in 7A." 
He praised his team for answering his call to action and responding with "a playoff mentality." 
"We went behind three times and found an answer three times, so I'm super proud of them in that regard," Kersh said.
He went on to describe Jackson's performance as "truly special." 
After the game, Kersh made a point to tell Jackson that what he most appreciates and values is that "even with three goals, at the end of the game, he's still doing the dirty work. In the last minute, he's still battling for headers in our box, and that's the special mentality he has." 
Jackson echoed his coach's words after the match, saying, "He always lets the team know that they have to win no matter what cost, no matter if that's area games, or if we're going against Mountain Brook, Grissom, or Oak Mountain."
"
I just think that getting in that mindset is really what can help us play our best.
— Will Jackson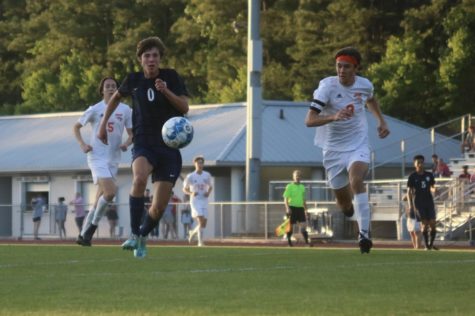 On top of that, he took zero credit for his hat trick, saying that he owes everything to his team for "getting him in position" and allowing him to put one in the net for all of them.
Now the Patriots turn their focus to the 6A state playoffs, specifically hosting Pell City Thursday, April 27.
The boys, by all measures, had a phenomenal regular season that can ultimately be summarized in two statistics:
Goals scored against area opponents: 65
Goals allowed by Homewood against area opponents: 0
Of course, everyone knows that the playoffs will be far more difficult than their area play, which is why Kersh was so thankful for the highly competitive match against Grissom to get them ready. 
Thursday night, April 27, Pell City V.S. Homewood. The winner advances to face Mountain Brook, the loser heads home.