Homewood Patriot Marching Band puts on exciting spring performance
Last night's spring band concert was a first of its kind at Homewood High School. This show allowed all four bands to finally play together and provide the audience with a selection of songs from a variety of different genres and styles.
 The concert was held in the gymnasium and featured the Homewood Patriot Marching Band, The Star Spangled Girls, and Winter Guard.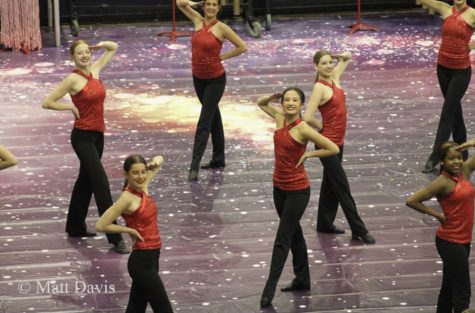 When band director Chris Cooper was researching different ways to incorporate all of the Homewood bands together, he came across the University Wisconsin Badger Marching Band's spring show. 
"I knew right when I saw it, it was what I wanted our show to become," Cooper said.
After this discovery, he began fine tuning the music selection which ended up including: Songs by Aretha Franklin,  Music from Glee, Phantom of the Opera, Les Mis with Five Singers, Stevie Wonder, Guardians of the Galaxy, Ed Sheeran and The Beatles. 
Cooper has high hopes for spring shows in the future. He plans on having a small committee of students helping him with the planning and song selection. Many students have already begun coming up with ideas for next year's show. 
The spring concert is another tradition that the Homewood Patriot Marching Band hopes to continue for years to come.