Præstholm exchanges Denmark for Homewood
Moving from Denmark to Alabama is quite a drastic change of scenery, but the welcoming spirit of Homewood has eased the transition for Mathias Præstholm. 
In order for his dad to teach politics and religion at Samford University while on sabbatical, Præstholm's family moved from Roskilde, Denmark to Homewood, Alabama for the second time.
In 4th grade, Præstholm and his family moved to Homewood for the same reason, although the adjustment was far more difficult. 
" I barely knew English except for simple phrases like 'Hello,' and 'My name is Mathias,'" Præstholm said.
Since then, Præstholm's English has tremendously improved through core English classes in Denmark.
The structure of Denmark's schooling is far different from America's, which allows for Præstholm to take a gap year.
This first period of school in Denmark roughly translates to the first ten grades of American schools, then students have the option to take a gap year and travel, which most students take advantage of, said Præstholm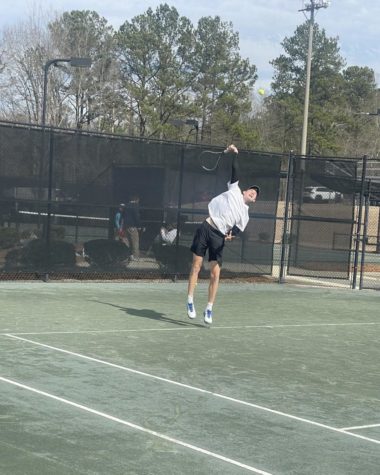 Another difference is between the static school schedule of Homewood and his schedule in Denmark, which changed weekly, with classes lasting around an hour and a half with longer breaks in between. 
The most difficult subject here for Præstholm is math because, even though he has learned the material before, it was not in English terms. 
The hard work Præstholm puts into school here ultimately does not transfer over to his schooling in Denmark. " I am just here for the fun of it, " Præstholm said.
School is not Præstholm's only focus here at Homewood. After playing eight years of club tennis in Denmark, Præstholm secured his spot on the HHS tennis team.
" It has been a good season of tennis here at Homewood," Præstholm said. "I think we have a good chance of going far at state.
Præstholm pointed out the welcoming nature of Homewood students. "Everybody is so nice, and maybe that is because I stand out as the foreign, new kid, but people truly are so nice, " Præstholm said.