Homewood show choir heads to Nationals
After years of waiting, Homewood show choir is competing at Nationals at the Grand Ole Opry this week.
Held in Nashville every year, Show Choir Nationals is the battleground for some of the most competitive show choir groups in the country. Homewood last attended the competition in 2018, where they came in third place overall.
Homewood intended to compete again in 2020, but because of the COVID-19 pandemic, the competition was canceled. The last two years have been spent training and practicing for hundreds of hours. The show choir typically attends every other year.
On the first night of the competition, Nexus, the all-girls group, competes; on Friday, The Network competes. Six groups make it to finals, with finals being performed Saturday morning.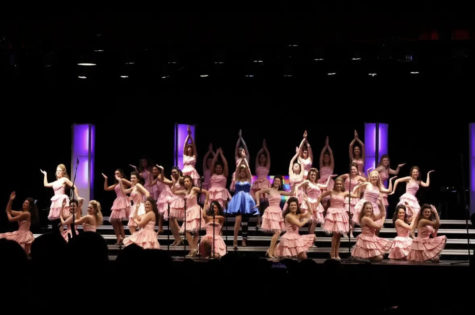 It is also director Scott Thorne's last year at the helm of Homewood High School's choir department. Byron Mosquera, Thorne's former student and current assistant director, will be taking over next year. This makes this year's attendance at Nationals especially emotional, for both Thorne and his students.
"It's kinda a full circle moment for me," Thorne said. "The guy that started Network is the owner and director of Show Choir Nationals. For me to go there and end my career and be able to pass it off to a former student, it's just full circle. To me, singing on that stage is just outstanding."
Homewood show choir members will be able to say they performed on the same stage as music legends like Elvis Presley and Dolly Parton, the Grand Ole Opry.
"I don't know if all of the kids will get the significance of it, but one day they will," Thorne said. "They'll tell their kids they sang on that stage. One day it's gonna click to them."
Senior Taylor Lemmon expressed his anticipation over performing at Nationals, a hypercompetitive atmosphere for the best of the best.
"There's a lot of hype around us; we swept the South," Lemmon said. "But the South arguably isn't as good as the Midwest, California, Minnesota."
While competitions can be stressful, there's also an important social aspect and sense of togetherness when attending. Senior Trey Glover speaks about how he's looking forward to spending time with friends while at Nationals.
"Hanging out with friends can be a blast," Glover said. "We're gonna go to the Wildhorse Saloon, it's gonna be a big party with all the show choirs. It's just gonna be an absolute blast."
With Spring's arrival, Homewood seniors are going through many "lasts" in their time as Homewood students. Senior Sandy Holmes emphasizes the role that show choir is playing in her senior year.
"It's a little bit sad because I know it's my last time," Holmes said. "After Nationals, it's prom, then graduation. I feel like this is almost like the peak of senior year."
With years of experience and a sweep of the South, eyes will most certainly be on Homewood at Nationals. No matter the result, performing on the national stage is a feat in itself, and will be a meaningful show for all those attending.