Oscar-nominated Homewood alumnus shares story
Update: He won! 
If Homewood alumnus and award-winning editor Paul Rogers continues his current momentum, Homewood High School could be adding "Oscar winner" to its list of alumni achievements.
Rogers has already won a Golden Globe and a BAFTA for editing the record-breaking comedy-drama "Everything Everywhere All at Once," directed by Daniel Kwan and Daniel Scheinert.  This Sunday, Rogers and the rest of Hollywood's filmmakers will find out if their nominations turn to gold.
The suburban Southeast is not particularly known for its creation of world-famous filmmakers. For Rogers, though, his family created an environment for art and creativity. His mother is a photographer and his grandmother was a painter, both offering an artistic influence on his childhood. Rogers' father was a lawyer, providing a technical element to his development. 
"Being a lawyer is also being a storyteller," Rogers said. "That's what they do. They craft a narrative, and they try to argue that narrative in front of a jury, so I was raised with storytelling and I was raised with art."
He made one of his first films in middle school, "Gandhi Strikes Back: No More Mr. Nice Guy." Rogers made it with his cousins after reading Gandhi's 560-page autobiography as a punishment for getting in a fight at Homewood Middle School.
"It was like Gandhi meets Rambo… We just set the camera up and kinda messed around in the living room," Rogers said. "It was just fun, there was no fancy film work involved at all."
He continued to make films throughout his childhood with his mother until he arrived at Homewood High School, where he used filmmaking and editing as a means to get out of writing papers for classes. Rogers' friend, Peter Hastings, would be assigned to write a paper on a given social studies topic, and Rogers would volunteer to edit it.
"I started working with him, then I saw 'The Matrix' and [it] just blew me away," Rogers said. "And I had just never been obsessed with a movie before like that. After I saw 'The Matrix,' I saw 'Memento,' Christopher Nolan's second film. That movie made me realize how incredible editing was."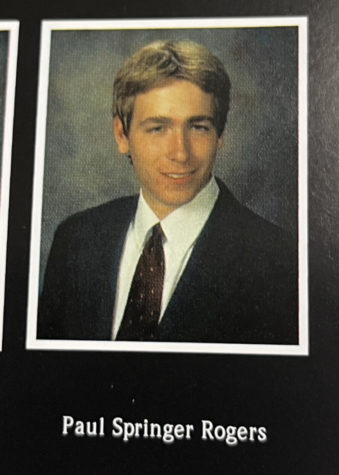 Rogers intended to pursue filmmaking as a career; he attended the College of Santa Fe's film school, which allowed him to experience a playground of different arts, where he was able to direct, act and edit. He particularly enjoyed getting the film to editing and post-production, where he was able to experiment with the cuts.
It was after another student recognized Rogers' editing skills and asked him to collaborate that he began to focus on editing. He continued to work with other students before completing school; he briefly went to Brazil before returning to Birmingham, where he began to work as a documentary editor.
Eventually, Rogers moved to Los Angeles to pursue filmmaking, where he briefly worked on "The Eric Andre Show." It was in Los Angeles where Rogers met Dan Kwan and Dan Scheinert, a director duo known as "the Daniels," known mostly for their work on music videos.
Rogers met the Daniels at a roller skating rink in L.A.; they hit it off (partially because Scheinert is also a Birmingham, Ala., native) and Rogers was invited to aid them in a music video camp. Shortly thereafter, the Daniels offered Rogers a chance to edit their music video for DJ Snake and Lil Jon's  "Turn Down For What".
The music video was a viral success. After becoming close friends with Rogers, the Daniels eventually shifted to writing and directing movies. When their directorial feature debut film "Swiss Army Man" received critical acclaim at Sundance Film Festival, independent film production and distribution company A24 offered to finance their next project.
After a few years of writing the script for  "Everything Everywhere All At Once," the Daniels approached Rogers and asked him to be their editor.  
"Originally, the film was going to be about a father and a daughter, starring Jackie Chan," Rogers said. "And then when it changed to a mother and changed to Michelle [Yeoh] I was even more on board because another one of those movies that was really formative for me was 'Crouching Tiger, Hidden Dragon.' Getting to work with [Yeoh] was a dream come true and I still am starstruck whenever I see her."
Rogers found inspiration for the fast-paced action sequences of "Everything" in the movies that originally drew his interest into filmmaking; he used the score from "The Matrix" temporarily while editing before the actual score was produced. Rogers and the Daniels worked closely during the process with a shared vision and direction. He saw it as a collaborative process, but not one without its challenges.
"It's always bad at first. The first cut you do of everything is always bad," Rogers said. "Same with writing, the first draft is always bad, and so you just have to accept that and not get discouraged and realize that all the genius work you see out there went through a lot of iterations of garbage."
He also came to realize the significance of his job in the production, considering how actors like Yeoh and Ke Huy Quan had been excluded from most mainstream discourses in American cinema, often only receiving offers for stereotypical Asian roles.
"Everybody had something to prove on that set," Rogers said. "Everyone was giving it 100 percent. We all wanted to succeed because we all wanted the people around us to succeed. I knew if I messed it up, Ke might not get another shot, Michelle might not get another shot."
After "Everything" achieved immense success, receiving acclaim from critics and general audiences alike, Rogers secured an Oscar nomination, an achievement in itself for any filmmaker or actor. The film, alongside all those who contributed to it, has been a winning fan-favorite all award season.
"What's crazy is I'm going to my first Oscars, which is insane, but it's also Jamie Lee Curtis' first Oscars," Rogers said. "It's also Michelle Yeoh's first Oscars. That's crazy to me. These are legendary actresses."
The cliche of dreams coming true is overdone, but it really is the case for Rogers. He's able to work with his cinematic heroes and make movies for art and for fun. While he's going to continue working on other projects as the Daniels write their next script, Rogers is completely open to working with his friends again.
"What I like about [working with the Daniels] is that they have a reason to make a film," Rogers said. "They want to spread a message of empathy, of kindness, of work that's good for the world. And that's what I want to keep doing."